Video Conference Centers
When you need video conferencing, look no farther than Kentucky court reporters. Our Lexington court reporters have put together the most comfortable video conference center in the region. With a 70" HD screen, comfortable seating for up to 20 people, convenient parking, drink service and a full-time attendant, you will not find a better option in Lexington, Kentucky.
We also have conference rooms available for depositions and mediations in Louisville, KY, Lexington, KY, Cincinnati, OH, Indianapolis, IN, and London, KY.
Theses full-service, state-of-the-art videoconferencing centers offer a convenient place to conduct your next national or international deposition, interview, EUO or company meeting. We make sure to offer comfortable surroundings and provide complimentary snacks and beverages. If you need to have lunch or dinner delivered, just let us know. We will provide a choice of local dining options based on your stated preferences. You should focus on your client. We will make sure you have a comfortable videoconference room.
Our facilities also offer complete office services, including:
Private areas for consultation with your associates
Fax machines
Photocopy machines
Computers and telephones
Airport shuttle service
Dining delivery
Complimentary drinks and snacks
In-house concierge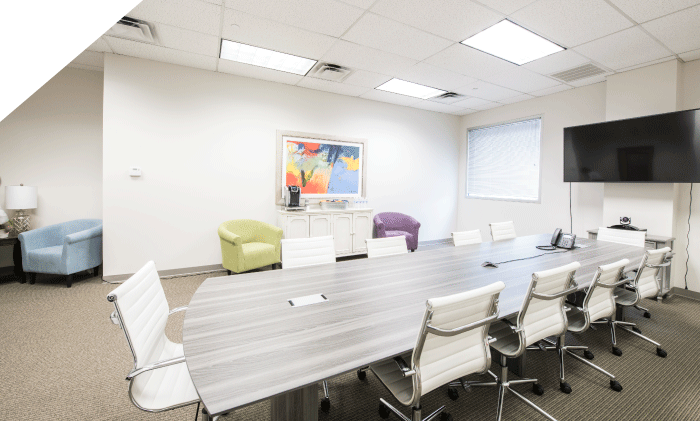 Video Conferencing
Save travel time and expenses by creating a quality virtual presence anywhere in the world! Videoconferencing is quickly becoming the preferred means of communication for business people who are constantly on the go. It is simple, efficient, and cost-effective. Our full-service, state-of-the-art videoconferencing center is a convenient place to conduct your next national or international deposition, interview or company meeting. Our videoconferencing center has all the equipment, technology and amenities you need to work with optimal efficiency.
Do yourself and your company a favor-avoid the high cost and inconvenience of today's travel. Being there has never been so easy, efficient, or economical, thanks to Kentucky Reporters, LLC.
Kentucky's videoconferencing provides three primary benefits for the client, the expert, and the attorney:
Consulting with an expert via videoconference assures both the expert and client that there won't be inconvenient, expensive travel as you prepare for trial. Your busy expert may be across the country, but via videoconferencing he can be in two places at once.


Videotaping conferences can help you determine whether you have selected the right expert. Do they appear credible on camera? Will they play before the jury or factfinder? Later, you can replay the videotape for partners, associates and your client to get a consensus on the applicability and effectiveness of prospective witnesses. Kentuckiana's videoconferencing has proven to be an unparalleled tool for "selling" the value of your expert, especially when determining your strengths in settlement or trial.


Once you've decided on the right experts for your case, videoconferencing helps you work with them efficiently and at significantly reduced expense.
Among the many applications of videoconferencing is the opportunity to simultaneously bring together parties in three or more locations. For any attorney involved in multi-district litigation, this is an absolute necessity. The cost of organizing an in-person conference for multiple parties in one place, at one time can be exorbitant. With videoconferencing, multi-point meetings are facilitated and attendees can receive a videotape record of the proceedings.
Schedule Now
Our scheduling team is available 24 hours a day to assist you with all of your court reporting and legal video needs. Reporters can generally be provided in as little as 15 minutes. You can schedule online and receive an immediate confirmation. We will reconfirm 24 hours prior to your depositions.
Schedule