Our Story
Our court reporting roots reach all the way back to 1976, when Alice Ballard first began court reporting in Louisville. She quickly became known for her easy going and fun personality while delivering verbatim transcripts quickly and affordably. Over time, the business grew into the largest reporting agency in Kentucky. In 2016, we decided to create an office that is fully dedicated to serving Lexington and the surrounding region. Our court reporters and videographers are Lexington natives and the majority graduated from the University of Kentucky. While we modernized tremendously since 1976, our friendliness and professionalism has not changed.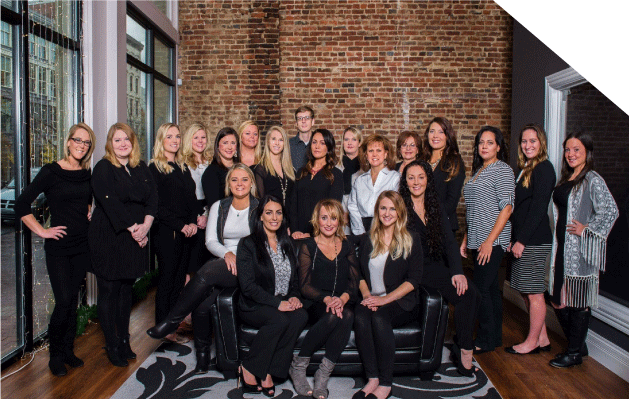 Our Approach
We are a client-first court reporting agency. That means that you never have to ask us if we are available to cover a deposition. If you are available then we are available. We have taken depositions in the snow, on Thanksgiving and even in a hurricane. To put our clients first, we also have to provide you with the best possible service. This means we have embraced legal videography, working video, remote videoconferencing, trial presentation and countless other applications that allow our clients to tell their story in the most effective way possible.
Putting our clients first means makeing our clients comfortable. Our 3500 square foot conference center in downtown Lexington is strategically located only steps from the courthouse. We offer free valet parking and conference room use. Our conference rooms are fully stocked with drinks, snacks, WiFi, and access to phones, computers and whatever else you may need. Our comfortable and modern facility will leave you comfortable and your clients impressed. Moreover, we do all this while offering the lowest rates in Kentucky.

Meet The Team
Our goal is to make Kentucky Court Reporters the first choice among Lexington attorneys.
Our schedule is your schedule and we are available 24 hours a day.
Bekah McDonner
Founder & CEO
Stephanie Nalley
Office Manager
Madeline Williamson
Director of Client Services
---
Schedule Now
Our scheduling team is available 24 hours a day to assist you with all of your court reporting and legal video needs. Reporters can generally be provided in as little as 15 minutes. You can schedule online and receive an immediate confirmation. We will reconfirm 24 hours prior to your depositions.
Schedule